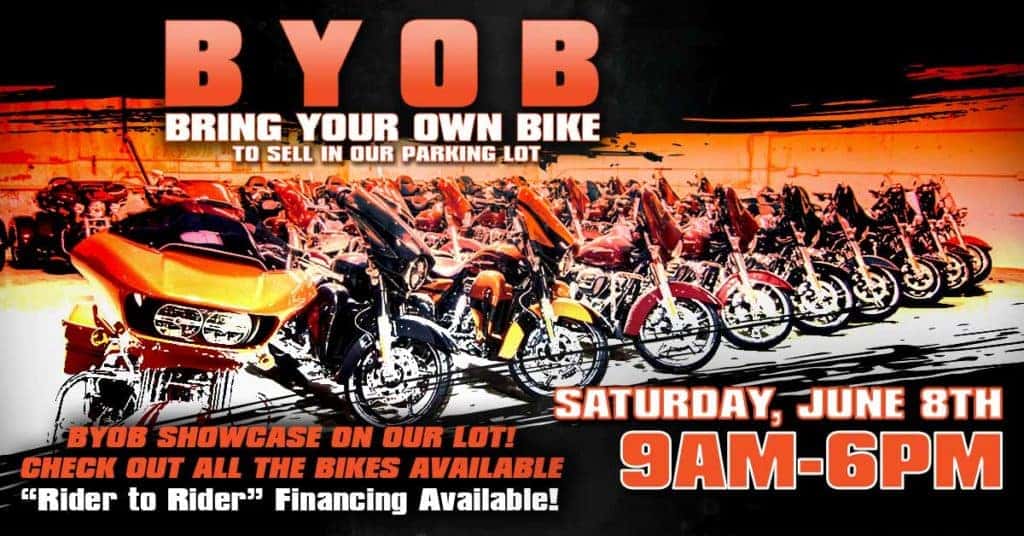 BYOB: Bring Your Bike to SELL in Our Parking Lot!
SAT, JUNE 8TH | 9AM-6PM
Display your motorcycle for sale at our lot in Huntington Beach!
Thinking of selling your motorcycle?
Reach more buyers in the BYOB Showcase on our lot!
Thinking of buying a motorcycle?
Check out a HUGE selection of motorcycles in one spot!
How much does it cost to display my bike?
Spaces are FREE!
Have a buyer for your Harley, but they need a loan?
Ask us about the Harley-Davidson Rider-to-Rider Financing Program.*  Financing available to qualified buyers who are buying a used motorcycle from a private party. Palm Beach Harley can help you or your buyer obtain a motorcycle loan and give you peace of mind knowing Harley-Davidson financial experts are involved in your sale.

---
---
*The Harley-Davidson Rider-to-Rider Financing Program is offered through Eaglemark Savings Bank (ESB), a subsidiary of Harley-Davidson Financial Services (HDFS).