Harley-Davidson Footwear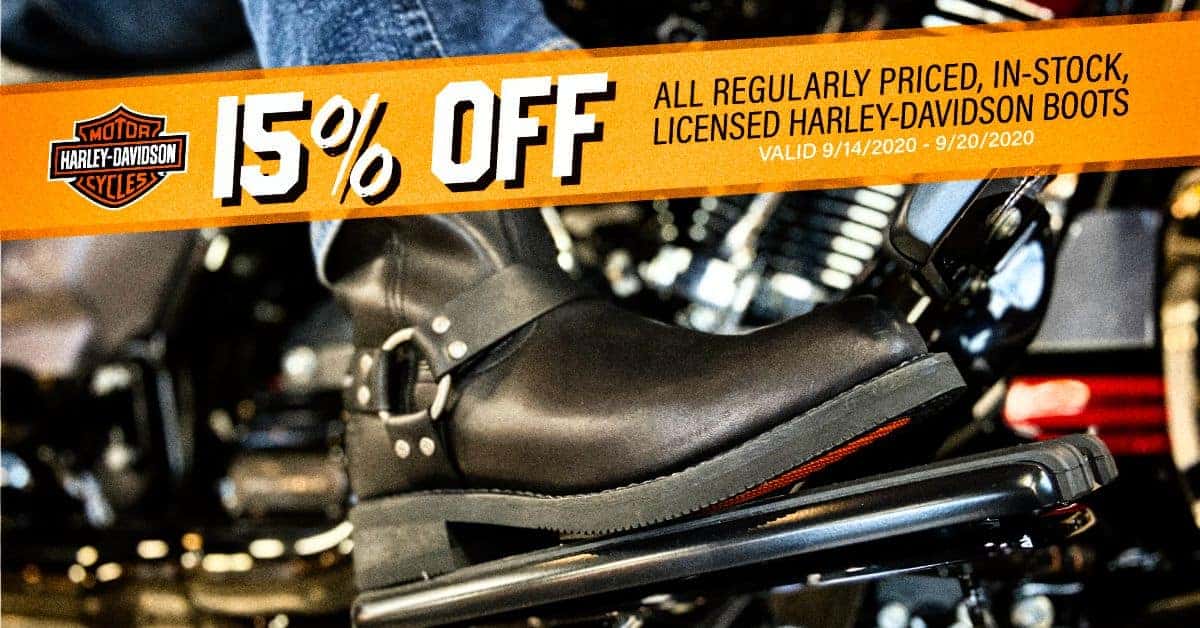 Built specifically for the ride, H-D® riding footwear not only provide all-day comfort and modern style, but are essential to help keep riders protected on the road.
Motorcycle Boots, riding sneakers, sandals, and more Harley-Davidson footwear styles in-stock now. 
Have questions? Send MotorClothes a message online.
---
Who makes Harley Boots?
All officially licensed Harley-Davidson boots are made by Wolverine Worldwide. Wolverine Worldwide, founded in 1883, is an industry leader in high quality, functional, stylish footwear.
---
Featured Tech: Harley-Davidson Ashmont "Black Flash" Riding Sneaker
Contact MotorClothes to check availability
---
Why Harley-Davidson Footwear?
You can't hide the quality of our leather:
Harley boots are made of oil-tanned, cowhide leather
Tech-Tuff® LEATHER: Highly abrasion resistant, oil and stain resistant, breathable
and more durable than traditional leather
Tech-Tuff is used to reinforce high wear areas, shift lever on left toe, toe box, heels
Stay cool as the temperatures rise:
Select styles have:
Venting
Mesh panels on the upper to offer optimal airflow to keep your feet cool
TFL COOLSYSTEM technology that keeps the boot temperatures up to 54 degrees cooler than standard leather when exposed to sun rays over time.
Soles:
Rubber sole feels sturdy and firm
Oil & slip-resistant to reduce slippage
Assists your grip at stoplights
Select styles feature Goodyear® welted soles which is one of the strongest boot construction methods available
Other styles have cement construction which means they are a lighter weight, economical option
ShockAbsorbers™ Twin Pad Comfort Technology – Patented Twin Pad Comfort Technology cushions the foot and absorbs shock with each step for increased comfort
Mega Harness Outsoles – durable, abrasion-resistant and is excellent for riders who drag their feet
EVA Midsoles – lightweight and perfect for walking as well as riding
Airbag heels – Provides additional shock absorption to increase comfort and reduce fatigue
Vibram® Soles – World leader in high-performance rubber soles
Excellent for riding and walking
Excellent traction, durable, protective, comfortable.
Other Harley Motorcycle Book Ride Focused Features:
3M™ Reflective Material – Purposefully placed on boots to improve your chances of being seen in low visibility conditions.
Poron for extreme impact protection. Poron is built into the boots and is comfortable, flexible, and lightweight while still absorbing more than 90% of energy when impacted at high strain rates.
Waterproofing keeps your feet dry and road-ready
Flexvent is a breakthrough in riding boot engineering that allows easier movement via extra material hidden above the heel. The gusset expands or contracts with movement enabling the foot to have a fuller range of motion.
Taibrella® is a moisture-wicking synthetic fabric that keeps your feet dry and comfortable.
Stylish Options:
Come in to talk to a Riding Gear Expert today to learn more and find your new pair of Harley-Davidson boots!
---
Contact MotorClothes
---